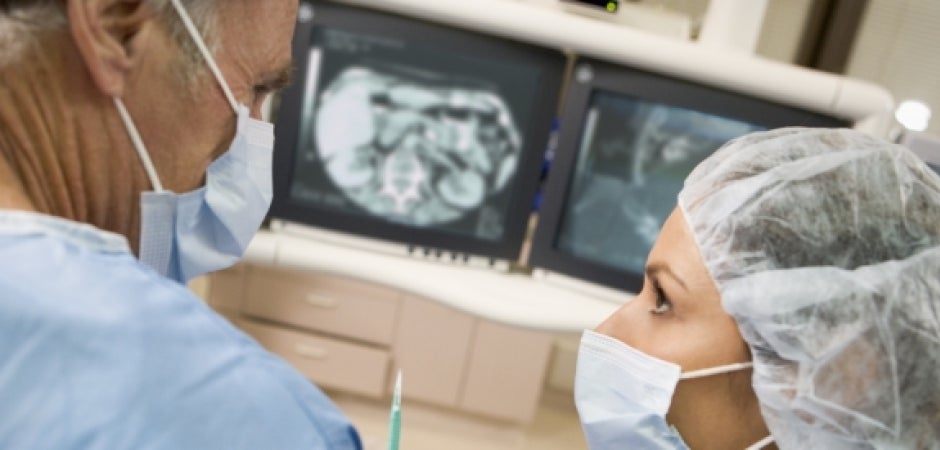 Hillcrest Hospital Cushing's Imaging Services/Radiology Department is a multi-modality diagnostic Imaging Department offering a wide range of imaging examinations. Our radiologic technologists have been formally trained and are registered by the American Registry of Radiologic Technologists. The physicians interpreting your examinations are 'radiologists' and are board certified by the American College of Radiology. Interpretation services are available by a radiologist, 24 hours a day, 7 days a week. The Imaging Department works closely with the Emergency Department, Surgical Services Department, Intensive Care Unit, and other departments within Hillcrest Hospital Cushing. Outpatient services are available every day of the week with appointments usually scheduled Monday-Friday, 7am - 5pm.
Some of the procedures performed in our Imaging Services/Radiology Department are:
Contrast Radiology
Radiology/Radiography Procedures
Fluoroscopy Exams

Barium Swallow (Esophogram)
Upper GI
Barium Enema

Tomography Exams
Orthopedic Exams

Arthrograms
Bone Surveys
Extremity Exams
CT Scans
Enhanced and Unenhanced Computed Tomography (formerly CAT Scans - computerized axial tomography) is performed daily. A CT scan studies the inner workings of your body. This allows the physician to visualize a wide range of body systems.
Potential Sites of CT Scan
Brain/Head
Pituitary Gland
Sinus
Inner Ear
Chest
Abdomen and Pelvis
Liver, pancreas, kidney, stomach, intestines, blood vessels, bones.
Spine
CT Angiography
Diagnostic Sonography/Ultrasound
Abdomen; Liver, Pancreas, Spleen
Renal
Gallbladder, Right Upper Quadrant
Pelvis, transabdominal and transvaginal
Obstetrical
Obstetrical, gender only
Breast
Scrotum/Testicles
Assist is Ultrasound-Guided Prostate Biopsies
Extremity Masses/Soft Tissue
Cardiovascular Services
Cardiovascular services include echocardiography with M-mode, 2D, and color flow doppler, stress echocardiography, nuclear cardiology to include treadmill stress testing and/or pharmacological stress testing. Also offered are studies that offer ultrasound evaluation of the carotid arteries in the neck as well as arterial and/or venous evaluation of the upper extremities or lower extremities.
Breast Imaging Department
The Breast Imaging Department includes an American College of Radiology accredited and FDA certified Mammography Program offering Screening and Diagnostic Mammography. Breast sonography for correlation with or without mammography is also available. Hillcrest Hospital Cushing offers various breast biopsy options for our patients to consider. The choices range from an open surgical procedure to new minimally invasive techniques. Be sure to understand your biopsy options and talk with your doctor to determine the procedure that is best for you. A minimally invasive, ultrasound-guided Mammotome Breast Biopsy system is available for patients who qualify to have their biopsy performed outside the operating room. Mammographic or Sonographic guided localizations are also performed to help guide the surgeon to the area of interest should open surgical biopsy be the best option. All of our registered Mammographers are trained by the American Cancer Society as BSE Instructors who educate our patients in Breast Self Examination.
Magnetic Resonance Imaging
Instead of using x-rays, MRI uses a powerful magnetic field and radio frequency waves. Many changes in tissue can be evaluated by MRI. This information will give the doctors valuable information that is not available by other diagnostic tests. The body is made up of atoms. These atoms have a magnetic charge. When the body is placed in a strong magnetic field, these atoms tend to line up with the magnetic field. Radio waves (similar to those used for TV) are then sent into the body, which alters the alignment of the atoms. When the radio waves are stopped, the atoms generate a weak radio signal that the machine detects. These radio signals are then put into a computer. The result is an image that looks like the body's anatomy.
Nuclear Medicine
A diverse range of Nuclear Medicine procedures are available including:
Hepatobiliary Scan
Bone Scan
Nuclear Cardiology
Lung Scan
Thyroid Uptake Scan
Bone Densitometry
Bone Density Exam/DEXA scan
Neurophysiology
EEG (encephalographic) studies are available with interpretations by a neurologist.