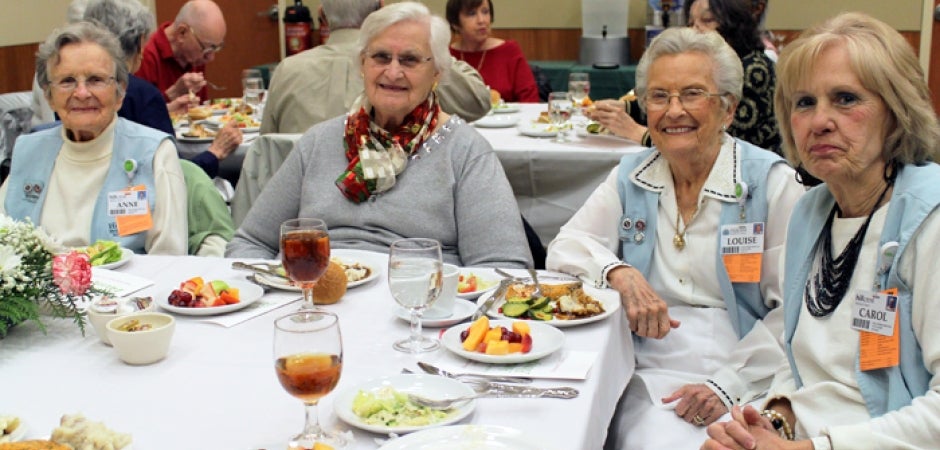 The Hillcrest Hospital Cushing (CRH) Auxiliary was formed in 1976 to promote and to serve the community welfare through the Hillcrest Hospital Cushing in ways approved by the administration of the hospital.
Since April 1983, the CRH Auxiliary has made the LifeLine Program available to the Cushing community. Its sole purpose is to provide assistance when needed for many frail or handicapped persons with the push of a button thus allowing them to remain in their own homes. In 2001 alone, $11,000 was expended on 25 state-of-the-art machines, and Auxiliary volunteers provided installation and support in the event of problems. Currently, 63 LifeLine units are in use with others available as needed.
The CRH Auxiliary has maintained an average of 100 members contributing their time, effort, and money to different areas of the hospital. Members volunteer in the Snack Bar, at the Information Desk, with the LifeLine program, or in vending, salad making, or knitting.
The Auxiliary is invaluable to the hospital in terms of volunteer work and fundraising. Their Blood Drives and Bake Sales have resulted in several major purchases such as:
Lap Top Computers
Hospital Bed Tables and Night Stands
Mammography Chair
Outdoor Signs
50 Christmas Stockings
For more information about becoming a member of the Auxiliary, call the Auxiliary President at 225-8136