Steven Finley, D.O.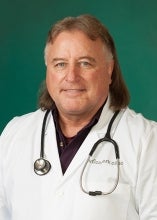 Location
Utica Park Clinic
Cushing
,
OK
Specialty
Steven Finley, D.O., has practiced family medicine in Oklahoma since 2008.
When treating patients, Dr. Finley believes the simplest philosophy is best. "Getting healthy and staying healthy gives you the best chance of living a long and happy life."
Dr. Finley chose to pursue a career in health care because it allows him to help others. "Medicine is a highly respected profession that also gives me the chance to help a lot of people every single day," he says.
While Dr. Finley is particularly skilled in end-of-life care and helping patients with a terminal diagnosis, he welcomes the opportunity to help you with any family medicine concerns. "I chose to focus on family medicine because it allows me to have long-lasting relationships," he says.
Dr. Finley earned a medical degree from the Oklahoma State University College of Osteopathic Medicine in 2005. He completed an internship at Regions Family and Community Medicine in St. Paul, Minnesota in 2006. He completed a family medicine residency at BroMenn Family Medicine in Normal, Illinois in 2008. He is a member of American Osteopathic Association. Prior to joining Utica Park Clinic, Dr. Finley worked as a family practice physician at Cimarron Health Care Center in Cushing.
Dr. Finley welcomes new patients and accepts most insurance plans. His office is located on the Hillcrest Hospital Cushing campus at:
Utica Park Clinic
1025 E. 2nd St.
Cushing, OK 74023
For more information or to request an appointment, call 918-225-3627.