Laurel Stacy, D.O.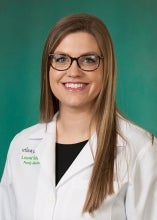 Location
Utica Park Clinic
Cushing
,
OK
Specialty
Laurel Stacy, D.O., practices family medicine. "I chose to focus on this area of care because I am drawn to a wide spectrum of patients," she said. "One of my greatest joys is contributing to the health and well-being of entire families. From treating the youngest patients, to caring for adults who may face acute or chronic conditions, I strive to be a proactive, engaged leader in providing care."
Growing up in a small town, Dr. Stacy saw how her family's physician was heavily involved in the community. Seeing his commitment and relationship-building abilities inspired her to pursue a career in medicine. "I wanted a profession that pairs my love for learning with my desire to serve others," she said. "Health care allows me to utilize my medical training and evidence-based medicine to serve people in my community."
When teaching patients how to get and stay healthy, Dr. Stacy encourages them to take their health into their own hands. "If you desire a lifestyle change, I will walk alongside you in that journey," she said. "I will encourage you to make small, sustainable steps toward your goal."
Dr. Stacy received a Bachelor of Science degree in physiology from Oklahoma State University in 2013. She earned a medical degree from the Oklahoma State University College of Osteopathic Medicine in 2017. She completed an internship and residency at Durant Family Medicine in Durant, Oklahoma in 2018 and 2020, respectively.
When she is away from the office, Dr. Stacy enjoys spending time with her son and husband, reading mystery novels, going on road trips to visit family, game nights with friends and binge-watching Netflix.
Dr. Stacy welcomes new patients and accepts most insurance plans. Her office is located on the Hillcrest Hospital Cushing campus at:
Utica Park Clinic
1025 E. 2nd St.
Cushing, OK 74023
For more information or to request an appointment, call 918-225-3627.