Kevin Dare, D.O.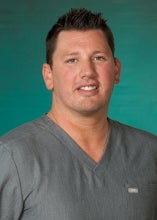 Location
Utica Park Clinic
Cushing
,
OK
Specialty
Kevin Dare, D.O., is board certified in general surgery and has practiced in Oklahoma since 2011. "I enjoy connecting with my patients on a personal level," Dr. Dare says. "That partnership is crucial in the treatment process. The art of medicine is equally important to the science of medicine; compassion goes a long way. It is a privilege and an honor to be trusted with a patient's most precious asset – their health."
Prior to joining Utica Park Clinic, Dr. Dare cared for patients in Blackwell, Ponca City, Miami and Grove.
Dr. Dare received a Bachelor of Science degree from the University of Oklahoma in Norman in 2001. He earned his medical degree at the Oklahoma State University Center for Health Sciences in Tulsa in 2006. He completed his general surgery internship and residency at Oklahoma State University Medical Center in Tulsa in 2007 and 2011, respectively. He served as Chief Resident during his final year.
Dr. Dare is a member of the American College of Osteopathic Surgeons, the Oklahoma Osteopathic Association and the American Osteopathic Association.
His personal interests include golfing, fishing and playing with his dogs.
Dr. Dare welcomes new patients and accepts most insurance plans. His office is located on the campus of Hillcest Hospital Cushing at:
Utica Park Clinic
1030 E. Cherry St.
Cushing, OK 74023
For more information or to schedule an appointment, call 918-225-3006