Christopher Sorrels, M.D.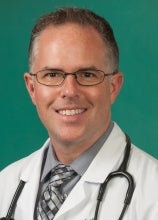 Location
Utica Park Clinic
Cushing
,
OK
Specialty
Pediatrics
Internal Medicine
Christopher Sorrels, M.D., is board certified in internal medicine and pediatrics. He has been practicing since 2003, including 10 years at Warren Clinic in Tulsa. He has also practiced in Murfreesboro, Tennessee and Oxford, North Carolina. He was a physician with the 507th Medical Squadron at Tinker Air Force Base in Midwest City, Oklahoma from 2003 through 2013.
Dr. Sorrels earned his Bachelor of Science Degree in Chemistry at Vanderbilt University, in Nashville, Tennessee in 1995. He received his Doctor of Medicine Degree from the University of Arkansas for Medical Sciences in Little Rock, Arkansas in 1999. He completed the Internal Medicine/Pediatrics Residency Program at the Indiana University School of Medicine in Indianapolis, Indiana in 2003.
Dr. Sorrels' personal interests include hiking with his kids, watching sports (especially Arkansas Razorback football) and biking.
Dr. Sorrels welcomes new patients and accepts most insurance plans. His office is located on the campus of Hillcrest Hospital Cushing at 1025 E. 2nd St.. For more information or to schedule and appointment, call 918-225-3627 between 8:00 a.m. and 5:00 p.m., Monday through Friday.