Blake Anderson, M.D., Ph.D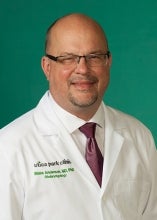 Location
Utica Park Clinic
Cushing
,
OK
Specialty
Blake Anderson, M.D., Ph.D., is board certified in ear, nose & throat (ENT) care and has been practicing since 2003. "Ear, nose and throat issues can significantly affect one's quality of life and even create life-altering problems," he says. "I provide each patient with as much knowledge and as many options as possible to help them choose the treatment plan that is best for them."
While Dr. Anderson is particularly skilled in the areas of chronic sinus and nasal problems and pediatric issues, he has more than 15 years of experience in helping patients of all ages and welcomes the opportunity to help you with any ENT concerns. He is highly skilled in both the medical and surgical aspects of ear, nose and throat care.
Dr. Anderson earned a bachelor's degree in biochemistry and molecular biophysics at Washington University in St. Louis, Missouri in 1990. He received a PhD in cellular, molecular and biophysical sciences from Columbia University, College of Physicians and Surgeons in New York, New York in 1996. He earned a medical degree from the same institution in 1998. He completed a general surgery internship and an otolaryngology (head and neck surgery) residency at Washington University / Barnes-Jewish Hospital in St. Louis, Missouri in 1999 and 2003, respectively.
He is a fellow of the American Academy of Otolaryngology/Head and Neck Surgery and a member of the American Medical Association.
Prior to joining Utica Park Clinic, Dr. Anderson most recently provided ENT care in Kansas City, Missouri.
Dr. Anderson's personal interests include building models, spending time outdoors with his dog and watching sports.
Dr. Anderson welcomes new patients and accepts most insurance plans. His Cushing office is located on the campus of Hillcrest Hospital Cushing at:
1030 E. Cherry St.
Cushing, OK 74023
He also sees patients in Tulsa and Pryor.
For more information or to schedule an appointment at any location, call 918-459-8824.