Ali Ward, APRN-CNP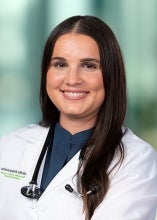 Location
Utica Park Clinic - Cushing
Cushing
,
OK
Specialty
Ali Ward, APRN-CNP, specializes in family medicine. Her professional areas of interest are pediatrics and acute care. "I love to make people feel better when they are not feeling their best," she said.
Ali's interest to pursue a career in medicine began when she was in grade school. "I always wanted to help people," she said. "I wanted to be able to take care of my family and I just continued following that dream until it became a reality."
Now, as she provides care for people at all different ages, she focuses on building relationships with her patients. "We are all doing our best and want you to know that your provider is also human and could be going through the same things you are. I want my patients to be able to trust me and know that I am looking out for their best interests," Ali said.
She chose family medicine as her specialty but loves caring for children. "I have always loved kids since I could start working. From babysitting to working at a daycare through nursing school and ending up in the NICU to start my nursing career. I never wanted to give up the idea of being able to take care of the whole family, so I got my family nurse practitioner degree but my love for children made me stay with pediatrics," she said.
Outside of working at the clinic, Ali enjoys spending time with her two daughters, her husband and both of their families. They also enjoy the outdoors and tailgating and cheering on OSU during football season.
Ali's education includes:
• Master of science in nursing degree with an emphasis on family practice (MSN-FNP) at Graceland University in Missouri, 2018
• Bachelor of science degree in nursing from Oklahoma City University (OCU), 2015
• Associate of science degree in nursing from Northern Oklahoma College (NOC), 2012
She welcomes new patients and accepts most insurance plans at:
Utica Park Clinic
1025 E. 2nd St.
Cushing, OK 74023
For more information or to schedule an appointment, call 918-225-3627.