When It's Important to Talk to Your Physician about Your Thyroid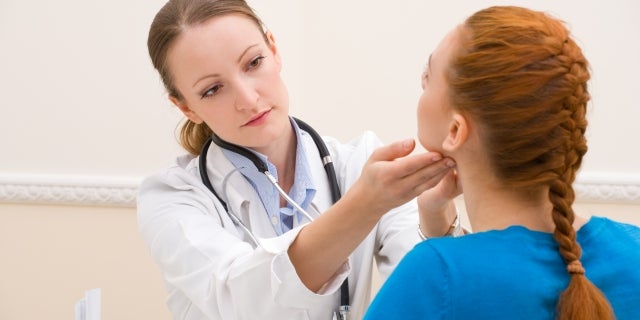 When It's Important to Talk to Your Physician about Your Thyroid
Submitted by

ahs-admin

on Thu, 01/10/2019 - 08:50
Thyroid Awareness Month is nationally recognized in January of every year. The thyroid gland produces metabolism hormones that control functions in your body like staying warm, using energy and keeping organs like the brain and heart functioning properly. It is a two-inch long, butterfly-shaped gland found inside your neck right under your larynx. According to the American Cancer Society, in 2018 there were about 53,990 new cases of thyroid cancer. We spoke to Darenda Kebler, manager of radiology at Hillcrest Cushing, about what to be aware of when it comes to thyroid cancer.
Darenda wants you to know that there is a simple test you can do in the convenience of your own home to check your thyroid health. She says, "Something you can do yourself is a thyroid neck check. All you need is a mirror and a glass of water. Hold the mirror in front of your neck, tip back the glass of water and look for knots in your neck. The thyroid sits below the Adam's apple, so you'll want to make sure you're not mistaking the Adam's apple for a knot, but when you swallow, if you see any knots or abnormalities, you should speak with your physician about that. Your physician can also have some lab work done to see if your thyroid is producing too much or too little, and once they find that out, the next step is to get an ultrasound."
When it comes to thyroid diseases, there are several types to be aware of. Darenda notes that the most common types of thyroid diseases she and her team see are hypothyroidism and hyperthyroidism. According to the American Thyroid Association, hypothyroidism is an underactive thyroid gland and hyperthyroidism is an overactive thyroid gland. Hypothyroidism means the thyroid gland is unable to produce enough thyroid hormone for the body to run normally. Common causes include an autoimmune disease, radiation treatment or surgical removal of the thyroid. Hyperthyroidism means the body is producing too much thyroid hormone. This can increase your metabolism, cause nervousness, irritability and weakening in your muscles amongst other symptoms.
Darenda recommends speaking to your physician if you are noticing anything that seems "off" with your thyroid. She notes, "It's important to be proactive! Be aware if you have any knots in your neck. When you go for your yearly physical, bring anything to the attention of your physician so they will be able to order the lab work you need."
For additional information or concerns about your thyroid, please contact your primary care provider for an appointment.