Tips On Curbing Your Childs Halloween Candy Binge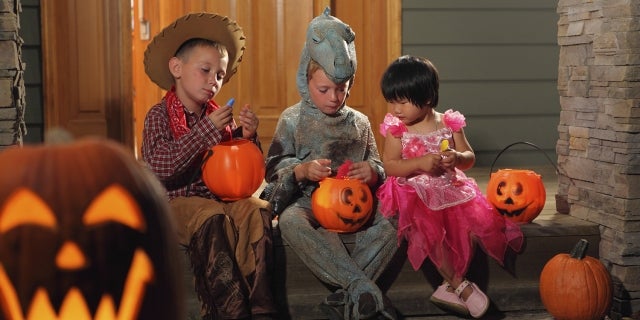 Tips On Curbing Your Childs Halloween Candy Binge
Submitted by

ahs-admin

on Fri, 10/30/2015 - 12:31
Trick-or-treating is a lot of fun for kids, but having a bag full of candy might not be the best thing for your little one. 
The good news is there are ways for parents to curb the binge candy eating without being the bad guy. 
Put on a spooky movie - If your child wants to collect candy from 6 pm to 9:30 pm you can always provide another option. If you put on a movie and serve some healthy treats beginning at 7:30 pm, after they have trick-or-treated for a good hour and a half, you can really cut down on the quantity of candy they collect.
Get smaller bags of candy - Filling up a pillowcase seems like fun, but having that much candy can lead to binge-eating on candy for days. Filling up a small bag will end the night with a much more reasonable quantity of candy in your child's possession. 
Have an early dinner - We all know the trick to not buying too much junk food at the grocery store is to shop on a full stomach. The same goes for kids trick-or-treating on Halloween. If they are well fed, they won't be so tempted to fill their stomachs with sugary sweets.
Set a candy expiration date - If by November 7 you still have tons of candy left after what has already been a weeklong feast, it might be time to get rid of the candy. Be careful with setting a deadline that your kids know about as it might encourage them to simply eat it all in a couple of nights.
Keep the candy out of reach - Limiting your child's access to their candy stash will help you better manage what they're consuming. Keep your candy on top of the refrigerator or in a spot they can't get to or find to help prevent a recreation of a scene from Willy Wonka and the Chocolate Factory. 
Make healthy snacks accessible - We have all seen fun do-it-yourself Halloween treat recipes on the Internet and in magazines. There are plenty of healthy, spooky-looking treats you can create. A convenient, fun and healthy alternative can go a long way. 
Halloween can be so much fun for the little ones, but it doesn't have to start any bad habits. There is plenty of fun to be had without binging on sugar for weeks on end. So this year go to haunted houses, tell ghost stories, watch a spooky movie and eat a little candy – after all, it's still Halloween!