Rehabilitation at Hillcrest Hospital Cushing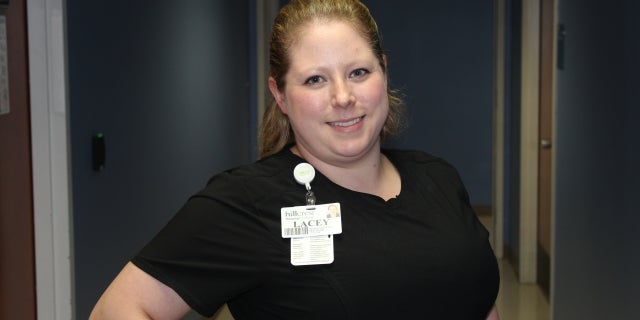 Rehabilitation at Hillcrest Hospital Cushing
Submitted by

admin

on Mon, 02/25/2019 - 15:25
Our Rehabilitation facility at Hillcrest Hospital Cushing offers a comprehensive range of therapeutic services to adults and children including therapeutic services for both inpatient and outpatient care. Our team of dedicated professionals are effective and efficient in providing quality care to our rehabilitation patients. We spoke with Lacey Pappan, rehabilitation and respiratory services manager at Hillcrest Hospital Cushing about the rehabilitation program and why physical therapy can be beneficial for so many patients.
Lacey shares that she pursued working in the rehabilitation field to help others. "I really enjoy helping people and this was just one of those ways I that I could do that," she says, adding "It's very rewarding to be able to take someone who has had a major traumatic event, like a car accident, and help them go from not being able to do much to improving their quality of life." Lacey has been working in the rehabilitation field for about 8 years but just recently came to Hillcrest Hospital Cushing in June of 2018.
What can patients expect from the physical therapy program at Hillcrest Hospital Cushing? Lacey walks us through the program, saying "Any time you have an outpatient physical therapy script, you will call and get scheduled for an evaluation appointment. That first appointment is really for us to figure out what's going on so we can develop a personalized plan of care in order to help you address the issue you're coming to see us for. Whether that is follow-up after surgery and working on getting your range of motion back or working on teaching you exercises you can do on a day-to-day basis, each plan of care is individually tailored for you, the patient. After that first appointment, you will work with your therapist to set a schedule that works best for you, then you'll come in and work with us."
Each physical therapy session is about thirty to forty five minutes of exercise programs that your therapist will work through with you. Lacey shares, "We problem solve in these sessions, so if you have issues with some of the exercises that we're doing or your body is just not ready for that yet, we can take it slowly. On the other hand, if an exercise is super easy for you, we can accelerate your program and individualize it to help you get optimum results. "
Lacey shares that many people think that physical therapy is just for someone who has been in the hospital or has endured a major trauma. She adds, "Yes, we do see those patients after surgery, but we can also help you if you are wanting to be more active or increase your endurance. You don't necessarily have to be in the hospital or have had a traumatic accident or surgery, we can really help everyone reach their goals." Lacey also mentions that many people dislike some of the pain involved in being in physical therapy. She shares, "We know how to help your body get better, which sometimes does require a little bit of pain. However, the benefit that it brings is an increased range of motion or a stronger ability to get up a set of steps, so it's worth it in the end."
As the rehabilitation and respiratory services manager, Lacey gets to be involved in a lot of aspects of physical therapy here. She has a balanced schedule of seeing patients and having a set time to work in her office and catch up on necessary paperwork. She clarifies, "I'm typically seeing patients every day, it just depends on what capacity I'm seeing them in. Balance really is the key to life, so we have tried to create a great balance here. Somedays, I'm in the trenches alongside my team working with patients, while I have one set day in my office handling paperwork."
While Lacey has only been at Hillcrest Hospital Cushing for about a year, she shares her hopes for the future of the physical therapy program, saying "I hope to see us continue to grow and be able to offer more services and hopefully in the future, more staff so we can better treat what our community needs."
For questions or more information on physical therapy at Hillcrest Hospital Cushing, please contact our rehabilitation office at 918-225-8388.