National Taco Day: DeCleasha Martin's BBQ Pork Tacos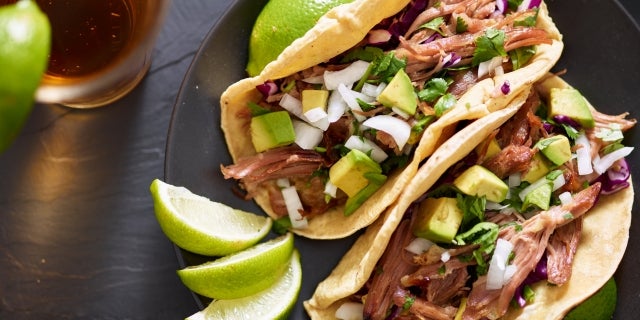 National Taco Day: DeCleasha Martin's BBQ Pork Tacos
Submitted by

admin

on Thu, 10/04/2018 - 16:55
Our Nutritional Services Manager, DeCleasha Martin, CDM, CFPP, shared her favorite taco recipe with us for National Taco Day! Follow her recipe below for a yummy taco meal!
Bulgogi bbq pork tacos with charred tomatillo sesame sauce & spring onion slaw
These are Mexican-Korean fusion food at its best. They may even be one of my very favorite tacos. For me, it's all about that tomatillo sauce!
 prep time 15 minutes
 cook time 15 minutes
 total time 1 hour 30 minutes
 servings 6 servings
 calories 507 kcal
INGREDIENTS
PORK
2 pounds pork loin roast sliced into 1/2 inch thick pieces
1 cup low sodium soy sauce
1/2 cup mirin
1/2 cup brown sugar
1 tablespoon Gochujang Korean chile paste
1 tablespoon fresh ginger grated
4 cloves garlic minced or grated
2 tablespoons sesame oil
8-10 corn or flour tortillas warmed
cotija cheese + sesame seeds + limes for serving
CHARRED TOMATILLO SESAME SAUCE
6 tomatillos skins removed
2 tablespoons Korean Sunchang sriracha or Gochujang (Korean chile paste) can substituted if needed*
2 tablespoons sesame oil
2 tablespoons rice vinegar
2 tablespoons low sodium soy sauce
juice of 2 limes
1-2 tablespoons toasted sesame seeds
SLAW
6 spring onions or green onions
2 cups green cabbage shredded
1 small mango cut into matchsticks
1 jalapeno + 1 red fresno pepper OR 2 jalapeno peppers
1/3 cup fresh cilantro chopped
1 tablespoon low sodium soy sauce
2 teaspoons rice vinegar
2 teaspoons toasted sesame oil
INSTRUCTIONS
In a large bowl, combine the soy sauce, mirin, brown sugar, Gochujang (Korean chile paste), ginger, garlic and sesame oil. Add the pork and toss well to coat. Try and make sure that almost all the pork is submerge in the sauce. Cover and place in the fridge for 1 hour or overnight.
Meanwhile, prepare the tomatillo sauce. Preheat the broiler to high. Line a baking sheet with parchment. Add the peeled tomatillos and place under the broiler for 3-5 minutes, turing once or twice or until the tomatillos are mostly charred all over. Remove from the oven and let cool slightly. Then add the charred tomatillos to a blender or food processor. To the blender, add the Korean Sunchang, sesame oil, rice vinegar, soy sauce and lime juice. Blend until mostly smooth. Pour into a glass jar or serving bowl and then stir in the sesame seeds. Cover and store in the fridge until ready to serve. The sauce cane be store for at least a week in the fridge.
To make the slaw, preheat a grill or grill pan to high heat. Toss the spring onions, jalapenos and fresno chile with a little sesame oil. Grill the veggies until grill marks appear on both sides, about 5 minutes for the pepper and 3 minutes for the onions. Remove the veggies and allow to cool. Add the cabbage and mango to a mixing bowl. Chop the spring onions, deseed the jalapeno + fresno pepper and then chop. Add the onions, peppers, cliantro, soy sauce, rice vinegar and any remaining sesame oil. Toss well. Store in the fridge until ready to serve.
Preheat the grill or a grill pan to medium high heat. Once hot, remove the pork from the marinade and grill until cooked through, about 4-5 minutes per side (depending on how thick or thin you cut your pork). As the pork is cooking, spoon the marinade of top for extra flavor. Allow the pork to rest at least 10 minutes and then thinly slice into strips. While the pork is resting, you can add the remaining marinade to a small saucepan and bring to a boil, reduce the heat and simmer 5 minutes or until slightly thickened.
To serve, add the sliced pork to a warmed taco shell. Top with slaw and tomatillo sauce. Add some cheese and sesame seeds. Serve with limes.