Doctors' Day profile: Laurel Stacy and Halie Muckelrath friendship continues as both serve patients at Hillcrest Hospital Cushing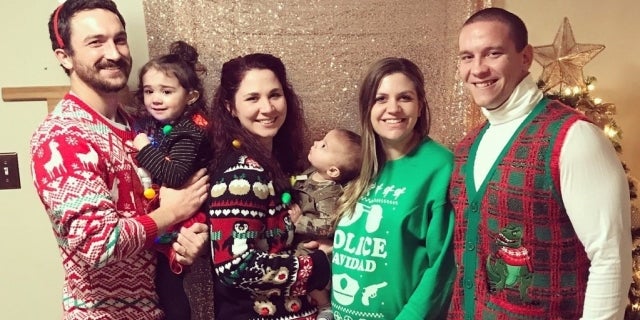 Doctors' Day profile: Laurel Stacy and Halie Muckelrath friendship continues as both serve patients at Hillcrest Hospital Cushing
Submitted by

shein

on Mon, 03/29/2021 - 14:01
(March 30 is National Doctors' Day. Hillcrest Hospital Cushing would like to thank our physicians for the dedication and passion they show for their patients. In honor of National Doctors' Day, we would like to Laurel Stacy, D.O., and Halie Muckelrath, D.O., both in family medicine.)
Laurel Stacy, D.O., and Halie Muckelrath, D.O., first struck up a friendship long before they began working together for Utica Park Clinic at Hillcrest Hospital Cushing.
The two initially met on the first day of medical school (see photo of both families in Christmas sweaters). Following graduation both completed their residencies in Durant before seeking out their first jobs, respectively. Last summer, Stacy and Muckelrath were both hired by Hillcrest Cushing.
"We set out on a job exploration together," Stacy said. "We both were looking for the same thing in a community. And we agreed Cushing and Hillcrest felt like home for us."
For Stacy and Muckelrath, Hillcrest Cushing has given them the chance to practice family medicine in a rural setting, an opportunity both have aspired for quite some time after they were impacted by similar childhood experiences.
"We had a rural family physician growing up," said Muckelrath, a Choctaw native. "I really appreciated what he did. That drew me to family medicine. I felt a calling to it."
Stacy grew up in Winfield, a town of approximately 12,000 residents in southcentral Kansas.
"Growing up in Winfield, it's kind of a small community," Stacy said. "I really looked up to my doctor and his leadership in a community."
Working in rural family medicine, Stacy and Muckelrath having enjoyed being able to administer patient care in a variety of settings such as in the clinic, hospital and emergency room.
"I really like the kind of impact we're able to have on our patients' lives," Stacy said. "We're kind of able to walk along with a patient in their care journey, more so in a rural community, than in a big city."
Muckelrath added, "I love taking care of everybody, from the children to the grandparents. We get a chance to work on a little bit of everything. We have a lot of procedures. There's just a need (for rural medicine care). Something about the people in rural America is a little bit different."
Both Stacy and Muckelrath began building their practice in the midst of the COVID-19 pandemic, which presented initial challenges. However, they have gotten creative in continuing patient care. Utica Park Clinic has offered parking lot, curbside and telephone visits along with other virtual care options.
"That's what is great about Utica Park and our management," Stacy said. "They are open to suggestion and adaptable in many ways."
Cushing and the surrounding area have made rural family medicine care an impactful experience for both Muckelrath and Stacy.
"It's worth it," Muckelrath said. "The people need it. They'll be very grateful. The reward is unending."
"It's even more enjoyable than I realized," Stacy said. "We're able to see several different members of the same family and help. The continuity of care and learning their history, it definitely feels like home here. The community has been really welcoming. The people are very friendly. It just fits me."