Doctors' Day profile: King Morris, M.D., shares the journey that led him to Cushing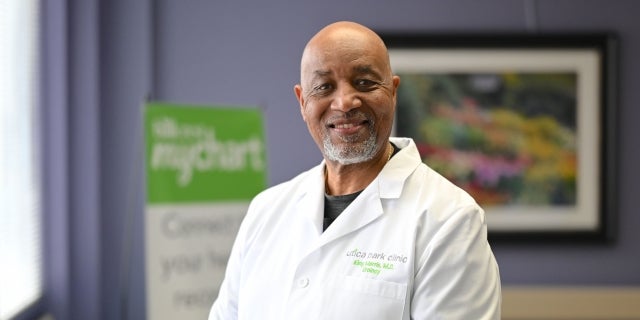 Doctors' Day profile: King Morris, M.D., shares the journey that led him to Cushing
Submitted by

shein

on Tue, 03/29/2022 - 12:26
(March 30 is National Doctors' Day. Hillcrest Hospital Cushing would like to thank our physicians for the dedication and passion they show for their patients. In honor of National Doctors' Day, we would like to spotlight urologist, King Morris, M.D.)
When King Morris, M.D., completed his residency in 1996, his intention was to return to his home state of California and begin practicing urology.
"I was planning work in the inner city, where there was a great need," Morris said.
Morris did find a place in need, but that destination was to Hillcrest Hospital Cushing. Morris has remained working in rural medicine for the past four decades.
"Rural medicine and inner-city needs are just the same," he said. "Both are underserved. For a community this small to have a urologist is a big deal."
Growing up in a family that emphasized education, Morris has a wide range of interests. He enjoys running, macrame, clay sculpting, painting, playing golf and other sports.
Morris played college football at the University of California - Davis.
His interest in medicine was first piqued during an anatomy class while in college.
"In the class, we used a cadaver," he said. "Once I got to cut in, I was hooked. I knew I was going to do something with surgery."
Morris earned his Bachelor of Arts degree in human biology at California State University in Sacramento and his medical degree at the University of California – San Diego School of Medicine. He completed both his internship and residency at Yale New Haven Hospital in New Haven, Connecticut.
For Morris, getting the opportunity to practice urology has given him the opportunity to care for patents of all ages.
"With a lot of my patients, I've seen the husbands and the wives, then their kids and even grandkids," he said. "It's definitely been a family affair. I get to see patients at all ages, managing various medical conditions, plus I still get to use my surgical skills when indicated."
As the son of a father who worked with at-risk youth, family was a high priority for Morris during his childhood. Raising his own family while in Cushing has enabled Morris to enjoy both professional and personal success.
"Before coming to Cushing, I never lived in a small town," Morris said. "I initially thought it was going to be a negative. But I've been able to grow up with my family and my son knows me. He grew up knowing me. That's a benefit of being in a small community. Even at the hospital, you feel like the staff you work with is a family environment."