DeCleasha Martin's French Pumpkin Soup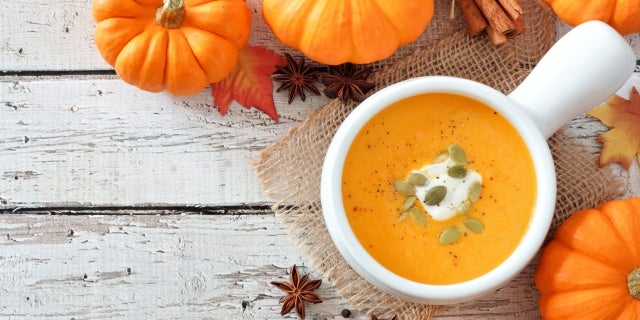 DeCleasha Martin's French Pumpkin Soup
Submitted by

admin

on Thu, 10/25/2018 - 13:30
DeCleasha Martin, CDM, CFPP, our Nutritional Services Manager shared her favorite French Pumpkin Soup Recipe for #NationalPumpkinDay! 
This Traditional French Pumpkin Soup Recipe is one such classic It is so, so easy to make, and the soup also freezes so well, you will soon be eating it year round. And, it is also extremely healthy and nutritious, so what is not to like about it. 
The soup has a velvety texture and a delicate, savory flavor perfect for a light lunch or a refined first course. The real treat is that it's as easy to prepare and healthy as it is delicious!
Ingredients:
2 tablespoons extra virgin olive oil
3 medium shallots, chopped
2 garlic cloves, chopped finely
5 cups chicken stock
1 medium pumpkin ( approx. 3 lbs.), peeled, de-seeded and cubed
3 large potatoes (approx. 2 lbs.), peeled and cubed
½ cup heavy cream
¼ teaspoon black pepper
Salt, to taste
Steps to Make It
Gently heat the olive oil in a large saucepan. Add the chopped shallots and sauté until they turn slightly translucent. Add the minced garlic and gently sauté for a few minutes more (be careful not to burn the garlic or the soup will be extremely bitter).
Steps:
Add the chicken stock, the pumpkin, and the potatoes to the pan and bring to a steady simmer. Allow the vegetables to simmer gently for 35-50 minutes, or until they're tender when pierced with a knife. It is important that the pumpkin is tender, or the resulting soup will be lumpy.
Puree the soup in a countertop blender, an immersion blender or a Thermomix if you have one until it is completely smooth.
Return the soup to a large pan, place back on the heat and simmer down to reduce a little and thicken the soup. Stir in the heavy cream and heat through.
Season the soup with salt and pepper to your taste. Serve immediately in hot soup plates or dishes with a crusty baguette of French sourdough on the side. As if the ease of making this soup, and its nutritional value isn't enough to make you want to cook this, it also freezes so well. 
To Freeze the Pumpkin Soup:
Leave the soup to go completely cold then divide into portions. Place the soup into labeled freezer bags and freeze. The soup will keep well for up to two months. To defrost, tip the solid lump of soup into a large pan and place over a low heat to gently thaw the soup, then give it a good boil before serving.