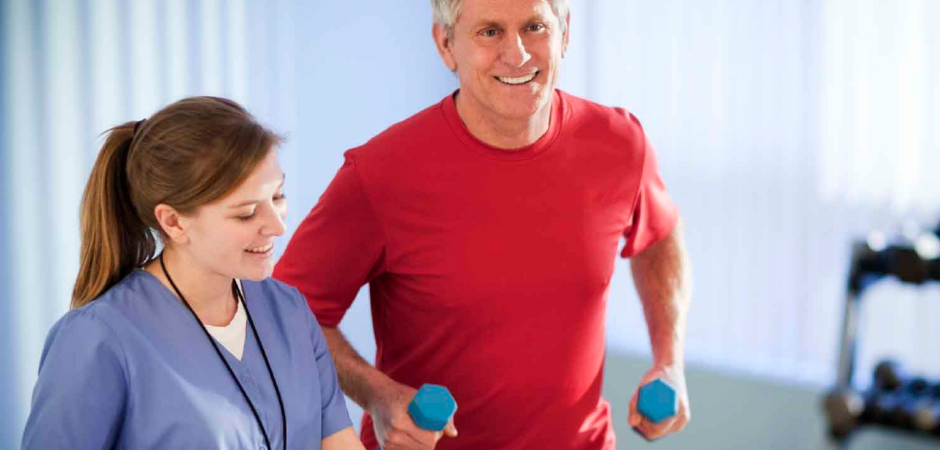 Hillcrest Hospital Cushing Rehabilitation patients benefit from a level of expertise unmatched for effectiveness and efficiency, which is why we are the referral center of choice by healthcare professionals and patients.
Our facility provides a comprehensive range of therapeutic services to adults and children.  Our team approach to care challenges our patients to reach their goals.
We offer therapeutic services for both inpatient and outpatient care. The Outpatient Rehabilitation Center accepts referrals from physicians and other healthcare professionals.  For additional information, or to make an appointment, contact us at:
Hillcrest Hospital Cushing Rehabilitation
1027 E. Cherry
Cushing, Oklahoma 74023
918-225-8388
Becoming a Patient
Although a referral from a healthcare professional is required, we welcome patient and family inquires.  Referrals are accepted from physicians, case managers and discharge planners via phone and fax.  In order to process referrals without delay, we request the following information be provided by the referring healthcare facility.
• Patient identification, demographics, insurance information
• Physician history & physical
• Medication list
• Recent chart notes (particularly therapy related notes)
• Anticipated date of discharge and transfer
Our business office will verify insurance coverage prior to admission.  We will work with your insurer to guarantee the greatest degree of coverage while ensuring the best possible outcome.
What to Expect Your First Visit
You will need to arrive 15 minutes early for a new evaluation.  We will have a patient questionnaire and medical questionnaire for you to fill out.  Things to bring to your initial visit:
• Physician Referral (or have your physician fax)
• Photo ID
• Insurance Cards
Your initial appointment will last approximately 60-90 minutes depending on each individual case.
For more information, please contact our Rehabilitation office at 918-225-8388.