Virginia Corcoran, PA-C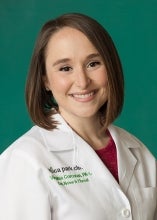 Location
Utica Park Clinic
1023 E. Cherry St., Suite D
Cushing
,
OK
Specialty
Virginia Corcoran, PA-C, practices ear, nose and throat (ENT) care. She has been a health care professional in the Tulsa area since 2018. Mrs. Corcoran chose a career in medicine because it incorporates several things she enjoys. "Health care was the only field that combined my passion for helping people, love for science and zeal for solving puzzles," she said.
Prior to attending physician assistant school, Mrs. Corcoran had the opportunity to shadow and work for an ENT physician. It was here she learned she wanted to become an ENT provider. "Working with the ENT physician was a formative time for me," she said. "ENT has always held a special level of interest for me because of my time at that clinic."
Mrs. Corcoran received a Bachelor of Arts degree in biology from Drury University in 2012. She completed a Master of Health Sciences degree in Physician Assistant Studies from the University of Oklahoma College of Community Medicine in 2017. Prior to joining Utica Park Clinic, Mrs. Corcoran worked at St. John Clinic Urgent Care.
When she is away from the office, Mrs. Corcoran enjoys cooking, baking, traveling, hiking, camping and playing board games.
Mrs. Corcoran welcomes new patients and accepts most insurance plans. Her office is located on the campus of Hillcrest Hospital Cushing at:
Utica Park Clinic
1023 E. Cherry St., Suite D
Cushing, OK 74023
For more information or to schedule an appointment, call 918-459-8824.