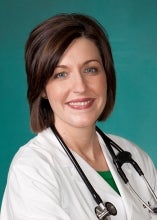 Location
Utica Park Clinic - Cushing
Cushing
,
OK
Specialty
Lisa Noe, PA-C, has been practicing Family Medicine in Cushing since 2006. She practices a wide range of family medicine including acute and chronic illnesses, dermatological procedures, and routine exams for children and adults. She is certified by the National Commission on Certification of Physicians Assistants. She is a member of the Oklahoma Academy of Physicians Assistants.
Ms. Noe graduated from Southwestern Oklahoma State University with a Bachelor of Science in Biology in 2002. She then earned her Master of Health Science, Physician Associate Degree from the University of Oklahoma Health Science Center in 2005.
Ms. Noe welcomes new patients. She accepts most insurance plans including Medicare and Medicaid. Her office is located at 1030 E. Cherry in Cushing. For more information or to make an appointment, call 918-225-0616 between 8 am and 5 pm Monday through Friday.