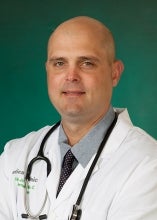 Location
Utica Park Clinic - Cushing
Cushing
,
OK
Specialty
Kyle Johnson, PA-C, practices family medicine in Cushing. He has worked as a physician assistant in Oklahoma since 2003. Prior to joining Utica Park Clinic, he cared for patients at Access Medical Center in Oklahoma City.
Kyle knew he wanted to pursue a career in medicine since he was in high school. A personal experience with a loved one introduced Kyle to the possibility of becoming a health care provider. "A physician assistant helped take care of my mother when she received a liver transplant," he says. "He was instrumental in medication changes and her overall recovery. This experience sparked my interest in becoming a physician assistant."
Kyle strives to care for each of his patients as he would want his own family members taken care of. He is committed to educating people on how to live a healthy life. "It's important to focus on the wellness of the entire body," he says. "I teach people that healthy living embodies the mental, spiritual and physical state of the body."
Kyle received a Bachelor of Science degree from Oklahoma Baptist University in 2000. He earned a Master of Health Science degree from the University of Oklahoma Health Sciences Center in 2002. He is a member of the Oklahoma Academy of Physician Assistants.
His personal interests include gardening, fishing, hiking and spending time with family.
Kyle welcomes new patients and accepts most insurance plans. His office is located on the Hillcrest Hospital Cushing campus at:
Utica Park Clinic
1025 E. 2nd St.
Cushing, OK 74023
For more information or to request an appointment, call 918-225-3627.