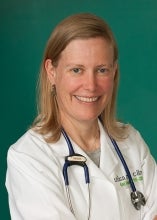 Location
Utica Park Clinic inside Hillcrest Cushing
1027 E. Cherry St., Suite 300
Cushing
,
OK
Specialty
Kerri Vandiver, APRN-CNP, has been practicing women's health in Tulsa since 2002. Patient comments about her include:
"She's perfect and the staff makes me feel so welcome."
"She's very informative, nice, friendly and very quick and efficient."
"Kerri is always kind and always answers all my questions."
"She is friendly, knowledgeable and efficient. I got in and out really fast. She's straight to the point and I'm glad I didn't have to wait."
Kerri earned her bachelor's degree in Nursing from Arizona State University in 1997. She received her master's degree in Women's Health Nursing from Drexel University in Philadelphia, Pensylvania in 2003. She is a member of the National Association of Nurse Practitioners in Women's Health.
When she's not tending to the needs of her patients, Kerri enjoys shuttling her kids to their various activities.
Kerri speaks fluent Spanish and welcomes English- and Spanish-speaking new patients. Most insurance plans, including Medicaid and Medicare, are accepted. Her Cushing office is located inside Hillcrest Hospital Cushing at:
1027 E. Cherry St., Suite 300
Cushing, OK 74023
For more information or to schedule an appointment, please call 918-392-0175 between 8:00 a.m. and 5:00 p.m., Monday through Friday.