Jason Joice, M.D.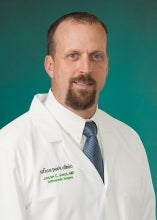 Location
Utica Park Clinic
1023 E. Cherry St., Suite D
Cushing
,
OK
Specialty
Jason Joice, M.D., is board certified in orthopedic surgery. He has cared for patients in Pryor since 2008. He is particularly skilled in the areas of:
• Cartilage restoration
• Sports injuries
• Workers compensation injuries
• Total knee replacements
• Degenerative diseases including hip injections
• Arthroscopic procedures for shoulders and knees
• Hand procedures including carpal tunnel and fracture treatment
• Trigger point injections
Dr. Joice earned his bachelor of science degree in Microbiology at the University of Oklahoma in Norman in 1998. He received his medical degree from the University of Oklahoma College of Medicine in Oklahoma City in 2002. He completed his general surgery internship at the University of Oklahoma in Tulsa in 2003. He completed his orthopedic surgery residency at the St. Louis University School of Medicine in St. Louis, Missouri in 2008.
Dr. Joice is a member of the American Board of Orthopedic Surgery and American Academy of Orthopedic Surgeons.
His personal interests include hunting, golfing, playing basketball and auto restoration.
Dr. Joice welcomes new patients and accepts most insurance plans. His Cushing office is located:
On the campus of Hillcrest Hospital Cushing:
1023 E. Cherry St., Suite D
Cushing, OK 74023
For more information or to request an appointment, call 918-824-7712 or go to UticaParkClinic.com.