Brandon Wilson, D.O.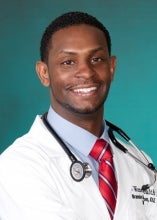 Location
Utica Park Clinic
1023 E. Cherry St., Suite D
Cushing
,
OK
Specialty
Brandon Wilson, D.O., practices Obstetrics & Gynecology. Patient comments about him include:
"His bedside manner is exceptional. You don't find very many providers anymore that have exhibited that amount of happiness when dealing with their patients. I thoroughly enjoyed spending time with Dr. Wilson and can't wait for my procedure. Even though I still feel anxious about the procedure, his presence and sense of humor will relieve some of the anxiety I feel."
"I'd like to thank Dr. Wilson for taking such good care of me before, during and after my surgery. He is a fantastic doctor! I'm so glad I found him. If you're looking for a doc who listens and takes the time to explain things to you, and who also has an awesome personality, he's your guy."
"He's awesome. He provides excellent care and has a great bedside manner."
"He listens well and is very respectful. He has an easygoing attitude that made me feel very comfortable and well cared for."
"His compassion and bedside manner is top notch. He is highly knowledgeable in his field."
Dr. Wilson received his Bachelor of Science degree from Oklahoma State University in Stillwater in 2002. He earned his Doctor of Osteopathic Medicine degree at the Oklahoma State University Center for Health Sciences in Tulsa in 2009. He completed his residency in Obstetrics & Gynecology at Oklahoma State University Medical Center in Tulsa in 2013. He is a member of the American College of Obstetrics & Gynecology, the American College of Osteopathic Obstetrics & Gynecology, the American Osteopathic Society and the Oklahoma Osteopathic Society.
Dr. Wilson's personal interests include spending time with his family, playing basketball, reading, watching movies and volunteering with youth.
Dr. Wilson welcomes new patients. Most insurance plans are accepted. His office is located on the campus of Hillcrest Hospital Cushing at 1023 E. Cherry St., Suite D. For more information or to schedule an appointment, call 918-392-0175.