April Zumwalt, APRN-CNP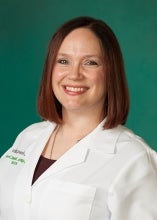 Location
Utica Park Clinic
1023 E. Cherry St., Suite D
Cushing
,
OK
Specialty
April Zumwalt, APRN-CNP, has been a health care professional since 2006 and a women's health nurse practitioner since 2009. Patient comments about her include:
"April was very nice, considerate and respectful. She treated me very carefully and took her time to understand my reasons for coming to see her. She listened to me and I felt she was very interested in what I had to say about my own health. I liked her very much!"
While April is particularly skilled in the areas of Nexplanon birth control insertion and removals, intrauterine device (IUD) insertion and removals, routine prenatal care and well-woman exams, she welcomes the opportunity to help you with any women's health concerns.
Prior to joining Utica Park Clinic, April cared for patients in Tulsa at Women's Healthcare, P.C., Greenwood Healthcare Specialists for Women, Oklahoma State University OB/Gyn and Hillcrest Medical Center.
April earned her bachelor's degree in nursing at the University of Oklahoma in 2006. She received her Master of Science degree in nursing from the University of Cincinnati in 2009.
April's personal interests include spending time with her two children, reading a good novel and enjoying evenings with her family.
April's Cushing office is located on the campus of Hillcrest Hospital Cushing at:
1023 E. Cherry St., Suite D
Cushing, OK 74023
For more information or to schedule an appointment, please call 918-392-0175.